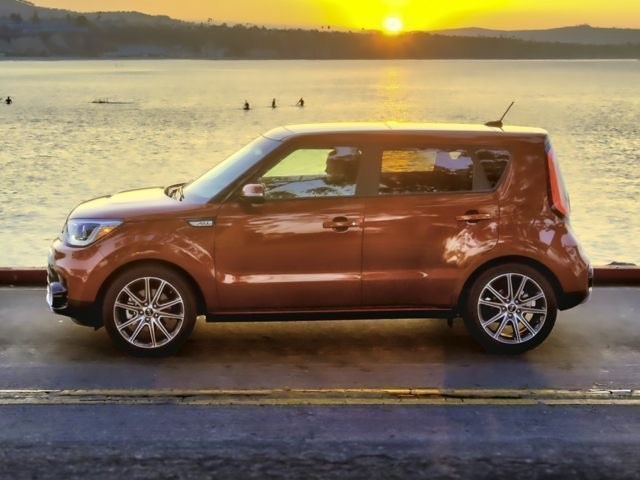 The Kia Soul: Offering More for Less Over its Top Competitors, Here at Liberty Kia!
The Kia Soul continues to make waves all across the country with its style, striking appearance, and wide range of conveniences. As a subcompact crossover SUV, it offers a spacious and rich interior for you and your passengers to enjoy, but with a lot more cargo capacity and fuel efficiency than you might expect to find on the average compact crossover SUV of its class. Here at Liberty Kia, we want you to know just how much this wonderful hatchback SUV can do for you, which is why we are prepared to show you our research into how the all-new Kia Soul performs against its top competitors. If we can successfully convince you that the Kia Soul is right for your needs, then you should come test drive one right here at our Ramsey, NJ Kia dealership. Welcome to Liberty Kia, our dealership is conveniently located just 20 minutes outside of Fairlawn through NJ Route 17 North!
Kia Soul vs Nissan Kicks
Let us begin at the top competitor from Nissan, the Nissan Kicks. While this subcompact crossover SUV enjoys a popularity among some segments of the population, you might notice that it is lacking in a variety of important rewards when it comes to providing a practical ride, affordable on a variety of budgets.
While both of these compact crossovers come equipped with a four-cylinder engine, the engine of the Kia Soul generates more torque upon acceleration and more horsepower on the commute to and from Mahwah, for a more responsive powertrain all together over its Nissan competitor.
 
Depending on where your skills lie, the Kia Soul gives you then option of a manual transmission, in addition to its available automatic transmission, if you are someone who prefers to drive stick.
 
The Kia Soul offers a more spacious interior passenger capacity, with a lot of hip room and shoulder room for you, your copilot, and your backseat passengers to enjoy.
 
Finally, the Kia Soul begins at a much more reasonable starting price, whereas the base trim of the Nissan Kicks starts out over $2,000 more and keeps increasing the more features you put on it.
Kia Soul vs Honda HR-V
Now, let us take a look at the competition from Honda, the Honda HR-V. While this is the most compact crossover from their brand, it is not the most prestigious in their inventory and lacks some important capacities, capabilities, and features, despite beginning at a starting price almost $4,000 more than the Kia Soul.
While the engines of these subcompact crossover SUVs are fairly equally matched, the Kia Soul is the more lightweight crossover of the two, with alloy wheels as a standard feature on the outside of the vehicle. Unlike the standard steel wheels of the Honda HR-V, aluminum alloy wheels are the more lightweight and preferred choice, helping to reduce drag, save fuel in the long-run, and increase corner-to-corner turning efficiency when taking on the streets of Chestnut Ridge, NY.
 
When it comes to extra conveniences on the inside of the UV, the Kia Soul gives you a bit more for less as even the base trim level features such features as overhead console storage, dual illuminated vanity mirrors, available satellite radio, automatic climate control, and a six-speaker stereo system instead of the four-speakers which come standard on the Honda HR-V.
 
As with the Nissan Kicks, the Kia Soul is a bit wider than its Honda counterpart, allowing for increased passenger volume, more hip room, and more shoulder room overall.
 
Not only does the Kia Soul begin at the more reasonable starting price, its warranties provided by the Kia brand give you more protection for the most important parts in the long run. The Kia basic warranty lasts for 60 months or 60,000 miles (whichever occurs first) and its Powertrain Warranty covers related engine/transmission components for 120 months or 100,000 miles. Whereas, the basic warranty covering the Honda HR-V lasts for 36 months or 36,000 miles and its powertrain warranty covers those components for 60 months or 60,000 miles.
Test Drive a Kia Soul Today in Ramsey!
If the Kia Soul sounds like everything you need in a subcompact crossover SUV, then schedule a test drive and come see us here at Liberty Kia to test drive this compact crossover today! Our dealership is conveniently located less than 20 minutes outside of Spring Valley, NY and we look forward to meeting you.