Kia has made a name for itself as the premier automobile in the budget market. It makes technologically amazing vehicles, yet they also provide exceptional value. The 2022 Kia Sorento is no different. It is a vehicle that performs admirably in almost every situation. At Liberty Kia, we are proud to introduce you to everything this vehicle has to offer. It is a mid-size SUV built for people who love to go off the beaten path and explore everything that Ramsey has to offer. When you are finished exploring the area, you can drive on the streets quite comfortably. It is a vehicle with all the modern luxury features you would expect from a Kia. It also has safety features that set it apart from the competition in this class. This vehicle also offers plenty of exceptional entertainment options for when you are on long journeys. It has enough power to ensure that you aren't stuck in traffic all the time.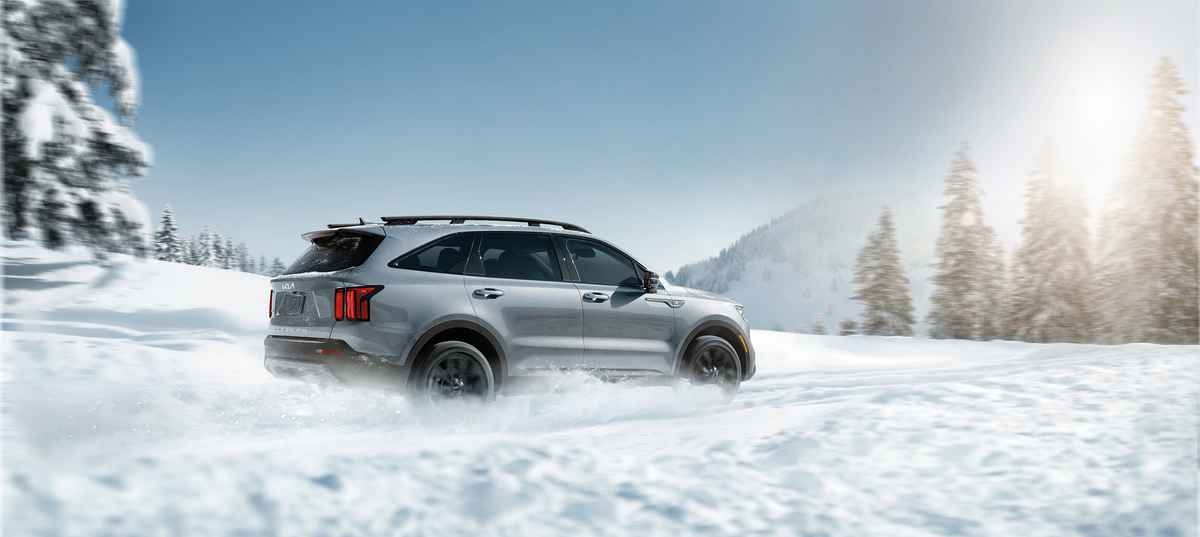 Technology
The 2022 Kia Sorento has set the standard with its exceptional lineup of useful new technologies. The most critical technologies here are the ones that help you avoid collisions on the road. It has a plethora of sensors that are constantly sending out signals to see what is around you. It can automatically brake for the cars in front, meaning that you will be safe if you ever drop the ball. However, it can also detect vehicles in your blind spot, meaning that you can change lanes with confidence. In fact, you get a 360-degree surround view monitor that enables you to take the guesswork out of parking and low-speed maneuvers. You can easily understand what is going on at all times and don't have to worry about hitting something.
Entertainment Options
Entertainment is an area where this vehicle isn't lacking. Since this is an adventure vehicle, it has all the entertainment options that you would come to expect. There is a magnificent heads-up display that showcases everything as you drive. This display has its own apps, and you can connect your Android or Apple device to it. You will then be able to play music and enjoy all the other forms of entertainment that are built in. It means you can feel comfortable on the road without having to worry about getting bored. Kia has taken these measures to ensure that everyone gets what they are looking for with this vehicle.
Performance
Despite being a mid-size SUV, the Kia Sorento doesn't lack power. In fact, it offers 191 horsepower, meaning that you have everything you need to get out of tricky situations. That engine gives it a 26 mpg combined rating. This engine is also paired with an eight-speed automatic transmission, which gives you smooth shifts and a dynamic driving experience. You will then be able to explore everything off the beaten path with confidence. You have the option of AWD, so you don't have to worry about getting stuck when you hit rough terrain.
Seats
There are two rows of seating, meaning that you can take the entire family along for the ride. There is ample legroom, meaning you will be able to stretch out and enjoy yourself. You don't have to worry about spending a long time in this vehicle, as it has everything you need to feel comfortable and safe. It is also packed with many premium features you will really enjoy.
Trims
There are eight different trim levels to consider. This means you have plenty of options, and you can be sure to find a model that fits your unique needs. Higher trims at Liberty Kia can provide upgrades to the infotainment system, comfort amenities, convenience features and more. Come down to Ramsey, NJ to see everything the 2022 Kia Sorento's trims have to offer!