Are you looking for a vehicle with a great chassis and a comfortable interior? Look no further but at our dealership in Ramsey, NJ for the new Kia Seltos. Even for those who are budget-oriented, this is the car to consider since it comes with an affordable price tag. Liberty Kia offers great new cars like the 2022 Kia Seltos.
Tech Behind the Wheel
It comes standard with a four-cylinder engine that makes 146 horsepower, and there is an available engine, an inline-four with 175 horsepower. The front-wheel-drive is standard with the base engine, and for the optional powertrain, it features an all-wheel-drive. Whichever powertrain you choose, you will get a continuously variable transmission.
The wheels feature a special tech known as traction control. The tech acts as a safety feature since it enables the wheels to take full advantage of the available traction on the road, mostly in harsh road conditions. Its regenerative braking system does an excellent job of providing adequate stopping power, thus resulting in a self-assured ride in most driving scenarios. Additionally, it comes standard with automatic emergency braking. The tech applies the brakes instinctively without the driver stepping on the brake pedal if an oncoming collision is detected.
The massive tires and sufficient ground clearance make the new Seltos maneuver swiftly in rugged areas like in [Geo]. Additionally, the handling behind the wheel is great because of its accurate steering wheel. The type of drivetrain you choose will result in different gas mileage ratings. For good fuel ratings, stick with the front-wheel-drive.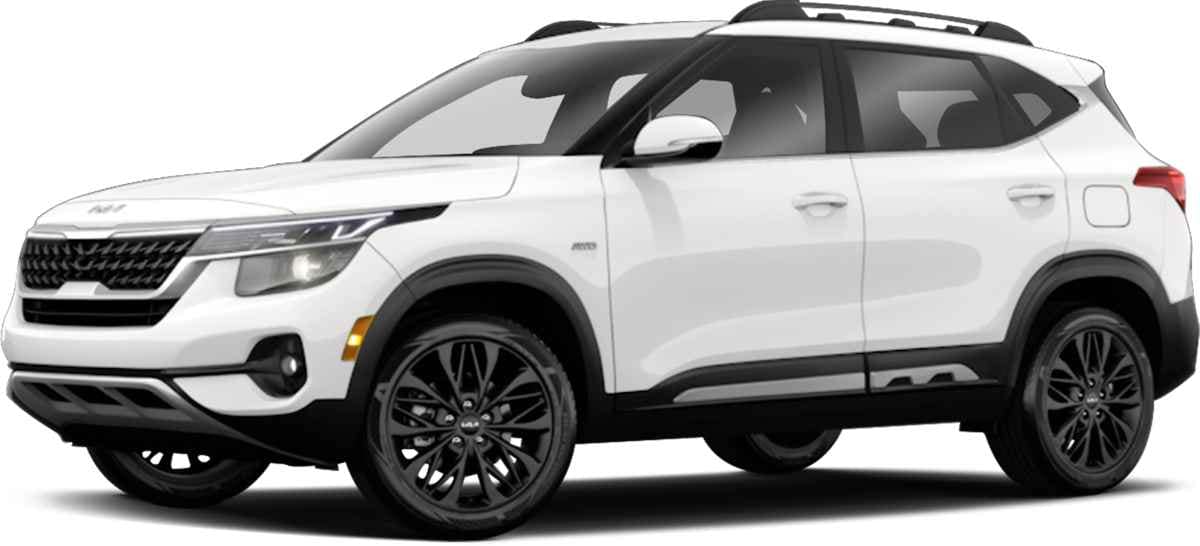 Entertainment
With entertainment, the 2022 Kia Seltos is no stranger, thanks to its various options to choose from. It has an eight-speaker audio system that plays music while on the go. The audio system includes a subwoofer that brings the outside air to create a deeper bass. Another feature includes the standard 8-inch touch screen that is more beneficial when paired with your phone. The touch screen features an FM radio, voice recognition via the Apple CarPlay, satellite radio, Android Auto capability, and various contents from your phone. You can also opt for a larger infotainment touch screen (10-inch) and a voice-command navigation system that gives you directions via the screen by speaking out where you want to go.
Interior Seats and Trim
The interior of this vehicle features a spacious cabin accompanied by well-tuned amenities. The seats are cloth-trimmed and are well-cushioned for comfort, even for long driving hours. You have an option of leather upholstery. Behind the rear seats, there is a spacious cargo room to fit in several carry-on bags. The roomy cabin makes the 2022 Seltos a vehicle to think about if you want to travel for long distances more often.
The seating capacity is up to five passengers. Both rows are convenient due to the ample headroom and legroom they offer. To develop the child car seat, you have to combine a tether anchor with two LATCH connectors. The setup happens in the second row. The front seats are adjustable to your choice, and they feature an upgrade, heated and cooled seats. In addition, the front seats feature seatback pockets to put in some equipment. Other interior aesthetics you will come across in the 2022 Kia Seltos include:
A leather-wrapped steering wheel
Floor trim
Front and rear bottle holders
A locking glovebox
Armrests
Visit Liberty Kia Today!
Liberty Kia in Ramsey, NJ is always open to any shopper looking for the 2022 Kia Seltos. You can also check our online inventory for the latest offers. We offer test drives to any of our shoppers.